What does CRM stand for?
Yeah!
I know what you are thinking…
CRM stands for Customer Relationship Management.
It's simple, right?
Well,
It's not that simple.
CRM does lot more than just managing customers.
Okay, now let's get down to business:
You already know how CRM has evolved from ledger days to today's social CRM.
Before I tell you what is CRM software and what does CRM stand for…
…let's see 3 statistics first.
Acquiring a new customer is five times costlier than retaining an existing customer. –
Forrester Research
70% of buying experiences are based on how the customers feel they are being treated. –
McKinsey
A 5% increase in customer loyalty would increase the average profit per customer by 25% – 100%. –
TheLoyaltyEffect
So,
What these 3 statistics tell us?
Customer retention is as important as customer acquisition
Customer's buying pattern is largely depended on how customer is treated
Customer loyalty plays an important role in any business
But,
There is a problem here.
How to run such highly customer centric business every time?
The solution is…
You must streamline all business processes and take a systematic approach to achieve this.
And do you know – what is that systematic approach?
Yes! It's CRM (Customer Relationship Management).
So,
What does CRM stand for?
CRM stands for Customer Relationship Management. It is a technology that helps business to retain existing customers, capture new customers and improve customer loyalty. It automates various business processes to overcome challenges like high client attrition rate, sales decline, non-systematic sales approach and dissatisfaction of stakeholders.
Okay,
CRM consists of 3 basic elements –
Customer
Relationship and
Management
CRM = Customers + Relationship + Management.
1. Customer
Customer is an individual or a business that consumes products and services from another business and pays for it.
And we all know that customer is the sole reason for existence of any business.
Customers can be categorized in 4 types –
B2C (Business–To-Customer), for example you buy groceries from a super store
B2B (Business-To-Business), for example XYZ company hires a software company to develop a mobile app
C2B (Customer-To-Business), for example an individual sells his gold coin to a jewelry shop
C2C (Customer-To-Customer), for example an individual sells a product or service to another individual.
It does not matter what kind of business you run,
Primary goal of any business is to know customers well, give best fit products or services and build a strong relationship.
2. Relationship
You probably heard this thousand times before – 'Customer is always right'.
Though like many others, I am not completely agree with this…
But that is not important here.
What is more important here is –
If customers are happy with your products or services, they will give you more business.
Moreover,
Happy and satisfied customers help business to generate leads and increase brand value.


Source: Nielsen
And you know what?
Satisfying customers is the most difficult task in any business.
"Make a customer, not a sale." – Katherine Barchetti (Click To Tweet)
Source: Linkedin
In today's digital age, customers can easily compare your products and services with competitors.
Many factors work behind customers brand switching and stop doing business with you. We will discuss this in details in another article.
But higher product price, low customer service, unorganized customer communication are just few of them.
And here are couple of statistics –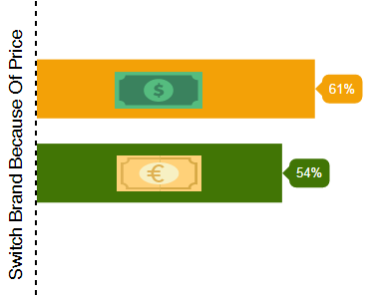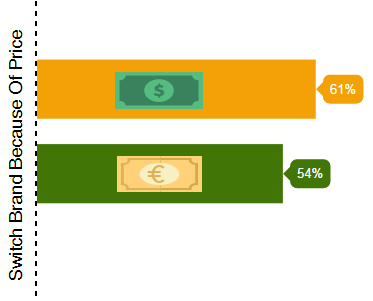 61% Americans and 54% Europeans switch brands just because of price. (Source:
Nelson
)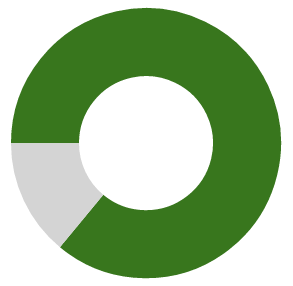 86% of buyers will pay more for a better customer experience. But only 1% of customers feel that vendors consistently meet their expectations. (Source:
CEI Survey, Forbes
)
Many organizations closely monitor and try to improve their relationships with customers and loyalty.
One of the most commonly used methods is ask for feedback from customers. This makes customers feel important. Plus businesses get to know what customers think about their brand and products.
And,
3. Management
Now,
You know your customers.
You also know, it is important to build trust and mutual beneficial relationship.
But without proper management, it is an impossible task.
Your sales, marketing and service team generate a flood of valuable customer data.
But
Do you know how to use data efficiently to manage customers better?
How to get more business from existing customers?
How to make customers happier than your competitors?
This is where CRM comes. It manages your customers and their relationships.
So,
What is CRM Software?
CRM is a strategy with technology to integrate various business units to perform only one goal – serve customer better. It manages your customers, relationships and interactions and ultimately increases sales.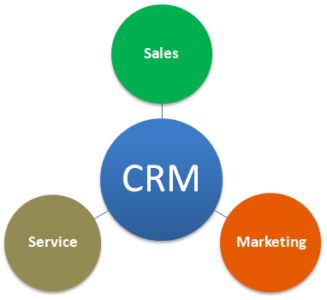 What is CRM Software? (Click To Tweet)
Now,
You have fair idea about what is CRM and what does CRM stand for.
Let's take an example to understand it better.
Suppose a sales person of XYZ Company wants to cross sell a product to a customer.
But as sales team works independently of service team, he has no idea that the customer is not happy with the existing product.
Customer has already logged an issue and called many times to service team to fix it. But till now he did not get any good solution. Every time he calls, different service agent picks up the call and gives different solution.
You may have already faced such situation, I did once.
Anyway,
Do you think – customer will be interested to buy a new product from XYZ Company anymore?
Never!
Moreover,
That customer will talk about bad customer service and advise others not to buy anything from XYZ company.


So what should be the first step for XYZ company to fix this problem?
See,
Solution is pretty straightforward.
XYZ Company must streamline business processes using CRM.
Now,
You may ask what makes CRM different from other software.
Well,
There is a difference (probably THE MOST IMPORTANT difference).
In CRM, customer is always in the center and data is stored in a single database.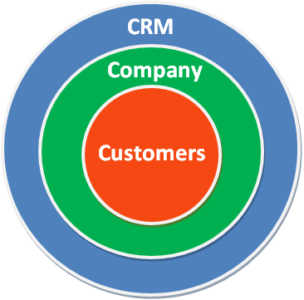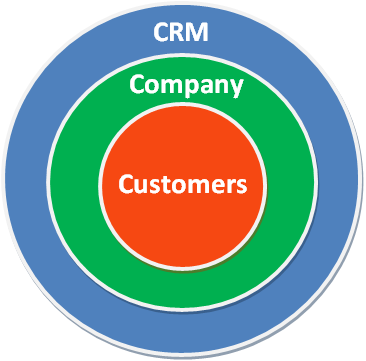 You see how this simple concept can fix the problems that XYZ Company is facing.
First,
CRM captures all interaction details whenever service agent calls any customer or vice versa.
So customers of XYZ company do not need to explain their problems every time.
This also helps service agents to know the history of the issue without asking same questions to the customer.
It solves the problem faster and makes customer happy.
Not only that, even management of XYZ company can use it to build strategy for better customer service or internal training.
Second,
As data is stored in a single database, sales team can easily check customer's current status before making any up/cross sales call. This knowledge helps sales team to decide what kind of product customer may be interested in.
Customer retention, cross and up selling opportunity, team collaboration are just few benefits that business can get from CRM.
Few other benefits are –
Business Process Automation
Better Lead To Customer Conversion Ratio
Shorter Sales Cycle
Customer Segmentation
Campaign Management
Optimum Utilization Of Communication Channels
But remember this.
There are many CRM applications available in the market.
And,
The BEST CRM software may NOT be the BEST fit for your business.
What does that mean?
Well,
Before I tell you that, let's see few important features of CRM software.
Features of CRM Software:
Contact Management
Account Management
Quote and Order Management
Opportunity Management
Sales Process Automation
Campaign Management
Customer Segmentation
Call Center Automation
Service Automation
Task management
Partner Management
Report and Dashboard
Mobility
Integration capability
Training and Ease to learn
Easy customization
So,
Before buying any CRM software, first decide what all features are required for your business.
There are few other deciding factors as well like product cost, software architecture etc.
I will tell you how to choose best CRM for your business in another article.
But,
Here I have one more important point to discuss – CRM Architecture.
Needless to say, database is the most crucial part in any software architecture.
Based on CRM architecture and database location, CRM can be divided into 3 models.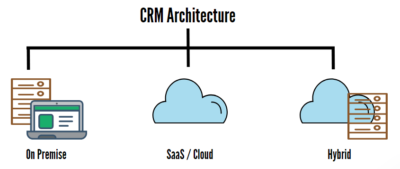 1. On Premise
This is the conventional approach where CRM application is installed on site. Database is installed on local server and managed by in-house IT team. Business has full control of its CRM application.
2. SaaS/Cloud
Business does not need to worry about where the database is, when to upgrade the application. It's all taken care by the service provider. Business just pays a monthly fee for using the service.
3 notable benefits of this model are –
Lower upfront expense as business does not need to setup whole IT infrastructure
Almost zero maintenance cost as everything is maintained by service provider
Shorter CRM deployment cycle than On Premise
3. Hybrid
This is the combination of On Premise and SaaS. For example, business buys On Premise CRM application and pays a third party to host it.
This is enough for CRM model right now.
Before I close this article on 'What is CRM and what does CRM stand for',
I will tell you brief about types of CRM software (functional) and current CRM market share.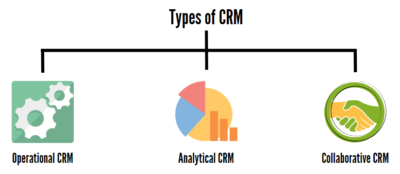 1. Operational CRM
Operational CRM automates the customer facing business processes. It mainly includes sales automation, marketing automation and customer service automation.
Every interaction is recorded in a database that employees can refer to serve customer better.
2. Analytical CRM
Analytical CRM analyzes the customer data and behavior to develop marketing techniques, campaign, customer acquisition and retention strategies.
It does not deal with customers directly, mainly used for back end activities.
It helps top management, sales, marketing and support personnel to find out better way to serve customers.
3. Collaborative CRM
Collaborative CRM gives a common platform to all business units (like sales, marketing, customer service, finance, upper management) to share customers' information.
It helps every employee to understand customers and their needs better.
And last CRM market share…
As per Gartner's latest CRM market share analysis report, Salesforce.com has the maximum share.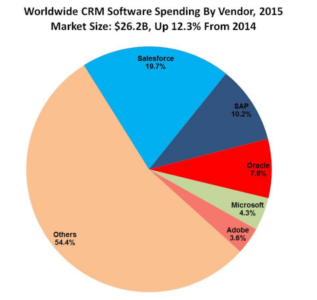 Gartner also predicts that SaaS CRM will thrive more in coming days than on premise or hybrid.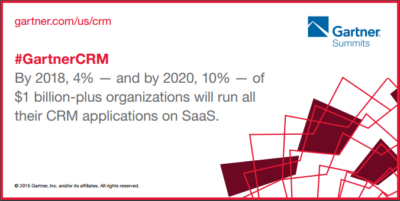 Click here to tweet this interesting statistic
Friendly Recommendations:
Want to know more about Salesforce or Microsoft Dynamic CRM?
Though you will find many training materials on the web,
But if you ask me to recommend only 3 courses, then they are –
I would say, go ahead and check at least one course.
So just to summarize –
What does CRM stand for?
CRM stands for Customer Relationship Management.
And what is CRM?
CRM is a software with business strategies that helps business to manage and serve customers better.
And you are done!
Now it's time to know few common functionalities of CRM software.
How?
Check out our next article on Features of CRM Software.
But before that, don't forget to leave your comment. Please let us know what you think about what is CRM and what does CRM stand for.
What is the best CRM application that you can think to solve problems of XYZ company?