So you want to build an overwhelming customer loyalty for your brand.
That sounds great!
But building customer loyalty is not an easy task.
As a matter of fact,
In the U.S., 78% of customers are not loyal to a particular brand. (Source: Nielsen)
But why?
Because, either the business does not take care its customers properly or does not give enough value to glue customers.
Now,
Question is how to build customer loyalty then.
In this article, we will discuss 15 factors here to improve customer loyalty.
15 ways of building customer loyalty:
1. Improve customer service
Are you serious about building customer loyalty?
Then, very first step is to improve customer service.
Because,
67% customers stop buying products from a shop/brand just for bad customer experience.
Moreover…

Only 1 out of 26 unhappy customers complain. – (Source: 32 Customer Experience Statistics)
So it is difficult to know how many unhappy customers you really have.
Make sure, customer service team is knowledgeable enough about your products to handle customers' queries.
Every customer is different. Customer service team must be flexible to handle all kind customers.
Remember,
Customers are the most valuable asset of your company. You must nurture them in proper way.
2. Say Hello and Good Bye
It may look crazy but matters a lot.
Tell me where you feel good…
– You buy an item from a shop and after billing, shopkeeper thanks you and say 'Have a nice day!'
– Or you buy any item without any interaction with shopkeeper
Obviously first scenario has a feel good factor, right?
Customers do more business when they are greeted well.
That is the power of a good gesture and greeting. It builds customer loyalty for a brand.
So,
Do you greet your customers properly?
Do you thank them for purchasing products or services from you?
What about a friendly smile?
All these matter….
Remember, every customer is special and they must be treated in special way.
"Hello" with a smile makes your customers comfortable to do business with you.
Also don't forget to thank your customers for buying products from you.
3. Ask for feedback
Do you ask your customers to share feedback about your brand or product?
Your most unhappy customers are your greatest source of learning. – Bill Gates
To build sticky customers, you must listen what customers think about your products or services.
Why customer feedback is important in building customer loyalty?
By analyzing customer feedback, you can measure customer satisfaction index. Your customers are the best advisers. Only they can tell you if your business sucks 🙁

Listening to your customers is the best strategy to reduce churn rate. From customer feedback, you can identify your unhappy customers and reasons behind it.

Customer feedback can give you new product and pricing ideas.

Asking feedback from your customers shows that you care their viewpoint. This helps to build trust, create strong relationship and improve customer loyalty.
So get a thick skin and invite criticism from customers.
But
Getting feedback from customers is not an easy task.
Because…
Research says that only 1% of customers leave feedback unless business asks directly. (Source: Feedback and Loyalty)
So, ask for feedback using various channels but remember, it must be customer's preferred channel.
Few common customer feedback channels are like –
In person interview

Social media

Email

Telephone

SMS

In-app feedback

Usability testing

Suggestion boxes
Another important point –
Customers take time out to provide their feedback. You must thank and acknowledge customer's response. You can give incentives as well for sharing feedback.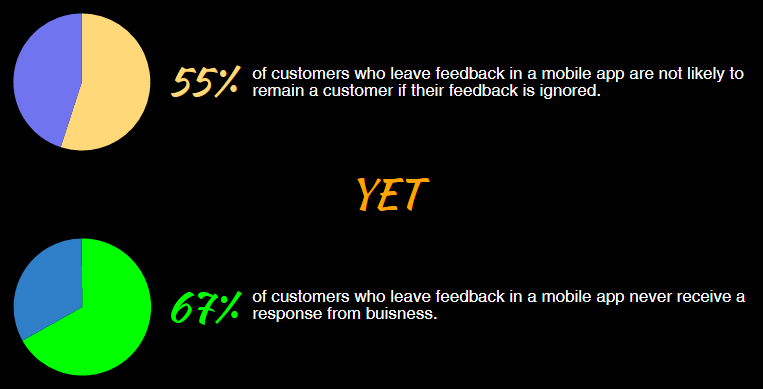 (Source: Feedback and Loyalty)
4. Introduce a loyalty program
This is an important factor in building customer loyalty.
Because…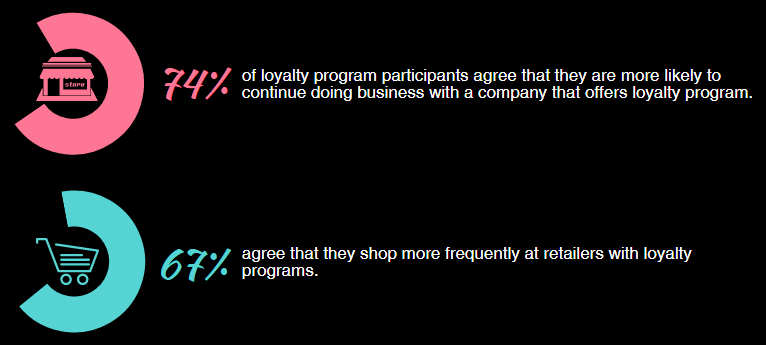 Source: Nielsen Global Retail Loyalty-Sentiment Report
You must reward your customers every time they do business with you. This encourages your customers to repeat their business.
For example,
An airline can run a loyalty program that allows customers to collect points or miles every time they buy tickets. After certain points, customers can redeem it to book a FREE flight.
Or
A coffee shop can offer a free drink after buying 10 cups of cappuccino.
Customers buy products to collect points and you reward them for doing so.
It's a win-win game!
We will discuss more about introducing of loyalty program in a separate article.
But remember,
Before introducing a loyalty program, you must know where you currently stand and your business goal.
Most important rule to make your loyalty program successful – keep it simple and creative.
It is better to give 1% cask back on every purchase than putting some complex rules that customers never understand.
Now ask yourself…
Is your loyalty program/reward same as your competitors?
Introduce a creative way to make your loyalty program different from others. Even an amazing program name could make a difference.
5. Build a personal relationship
No one likes to do business with a robot, right?
You must build a mutually beneficial relationship with your customers. It helps your customers to trust you more.
You can assign a customer service representative for each individual to build a healthy relationship.
Also personalize all communications like emails, letters – 'Dear John' is more attractive to John than just 'Dear Friend'.
Customers want to feel that you care about them.
6. Know your customers
This is another important factor to improve customer loyalty.
Do you know your customers well?

Source: IBM
Do you know your customers' preferred communication channels?
Or their preferred payment options?
Or their involvement in social activities?
Think about it,
If a customer likes email and you send letter to introduce your new product, will it be effective?
Or
If a customer prefers online payment and you do not have this option, will that customer prefer to buy products from you?
To retain existing customers, very first step is to know them well.
You must capture customer details as much as possible.
It helps you to reach out your customers in their preferred way. It also helps you to understand customers' buying pattern, their behavior.
7. Know your competitors
Knowing your customers well is not enough to make them loyal!
You must know your competitors as well.
Moreover, knowing your competitors is more important than knowing your customers.
Because, if you do not have good knowledge about your competitors, you can not implement a better loyalty program.
Many customers buy products from a single shop because that shop is more convenient for them or they do not find any competitor.
If they find similar product with better value from your competitor, you will lose them.
Lets see how well you know your competitors.
Can you answer these questions –
What your competitors do to retain their customers?
Do your competitors have any kind of loyalty reward program? How successful their loyalty program is?
What is their future product?
You must keep yourself update to date about your competitors.
There are many ways to know your competitors – follow social activities, read company newsletters, join trade show.
You must give something extra to your customers that your competitors do not. It could be discounted price or some extra services or better values.
8. Invest in a self-service channel
A recent survey, conducted by Nuance Enterprise, shows huge positive response in self-service.
What customers say about self service?
What is self service?
Self-service is a kind of electronic support that helps end users to gain information and perform tasks without or minimal involvement of live customer service representative.
It includes knowledge base, FAQ, self check out, interactive voice response etc.
Also self-service is the most cost effective and efficient way to address customers' issues.
Gartner predicts that by 2020, customers will manage 85% of their relationship with the enterprise without interacting with a human.
So, create a FAQ or a knowledge base where customers can clear their doubts easily. This will improve customer satisfaction and loyalty.
9. Educate your customers
Do your customers or prospects know how your product can solve their problems?
If you sit back and wait for an overwhelming response, it is never going to happen. Rather you must educate your customers about your products or services.
There are many ways to educate your customers.
You can write an article that talks about customers' pain points and show how your product can solve it.
You can prepare an eLearning course so that customers can take it as per their convenient time.
The point is,
You must show case your unique point of view to stand tall among your competitors by educating your customers.
10. Make quality a priority
Remember,
No matter how good your customer service is, if you can not meet customers' needs, you can never build customer loyalty.
If customers feel that you have best product, they are going to buy it again and again.
Customers are ready to pay more if your product has something extra that your competitors don't. It may be a 'must have' feature or quick delivery timing or high accuracy.
11. Social Media presence
You know,
Nowadays social media plays an important role in any business.
Social media gives you an opportunity to interact with customers directly.
Appreciate customers publicly, solve their issues, ask for feedback – all these help you to enjoy higher customer loyalty.

(Source: Convince&Convert)
But question is – why customers should follow you on social media?
Because,
You always give a reason to customers to follow your brand. Reasons could be anything like a contest or reward to follow you or quick solutions of customers' issues.
More your engage your customers, more you earn customer loyalty.
12. Live chat
Do you offer live chat option to your customers?
If not, you must think about it.
Live chat plays as important role in building customer loyalty.
Web chat adoption among customers has increased significantly in the past few years.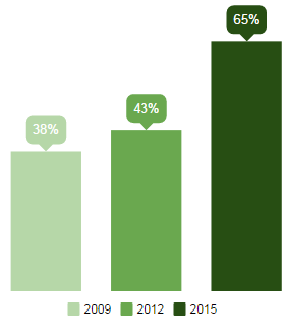 Source: Forrester
Not only that,
Customers who choose live chat, are satisfied a higher percentage (92%) than other channels like email, call or letter. (Source: Zendesk)
13. Communicate using preferred communication channels only
Business must communicate with customers using their preferred communication channels only.
If the customer prefers emails and business sends letter, it will help neither customer nor business.
Even it could create customer dissatisfaction.
Do you want to know how it matters?
51% of customers are loyal to brands that interact with them through their preferred communication channels. (Source: Accenture)
14. Safeguard customer personal details (Strictly!!)
If you are serious about building customer loyalty, then you must protect customer personal information.
Make your customers confident that their personal details like contact nos, email ids, addresses will not be misused.
Because…
Research says that 85% are loyal to brands that safeguard and protect the privacy of their personal information. (Source: Accenture)
And last but not the least,
15. Walk an extra mile
Think out of box…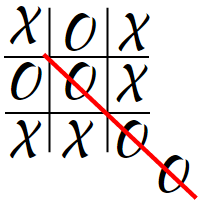 What can make your brand different from competitors?
How to keep customers happy always?
It could be anything like a personalized gift on birth day or a 'Thank You' note or just a cup of coffee.
Reward your customers something different, not just loyalty points.
How about this one – a monthly lucky draw to pick 'Star customer of the month'?
Do the unexpected!
It will make your customer happy and improve customer loyalty.
Well,
Do you know –
41% of U.S. consumers are loyal to brands that offer them the opportunity to personalize products to create something that is bespoke to them. (Source: Accenture)
I didn't…  😀
Before closing this article 'Building Customer Loyalty', let me share an idea…
Once a customer (say Amelia) enters into a shopping mall, store XXX sends a personalized text to her –
Like: 'Welcome Amelia! Special offer for your – enjoy 15% off when you shop with XXX brand.'
Do you think – this message will attract Amelia to buy from store XXX? Atleast she will think to visit this store?
Please share your thought below.
Previous article: Importance of Customer Loyalty
Next article: Customer Loyalty Statistics
Keep in touch, follow TechOneStop on Facebook / Twitter / LinkedIn / Google+.