By TechOneStop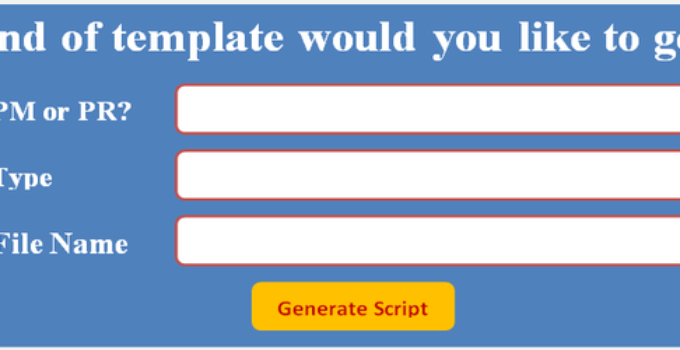 We know, Siebel Open UI is not developer friendly CRM application. A small syntax mistake in Presentation Model or Physical Renderer can ruin your whole day. 
So use our PM/PR Code generator tool to minimize code mistakes as much as possible.
Note: This is the beta version of the tool. We are working on it to add more functionalities and make better user friendly application. Please share your feedback in our comment section. We are eager to hear from you.
Copy the below script and save it as Filename.JS under '\siebsrvr\public\<lang>\<build>\SCRIPTS\Siebel\custom' folder.
From Siebel Open UI IP2014, there is not separate PM/PR file for Mobile. You could use desktop version for both - desktop and mobile.

To know more about Presentation Model or Physical Renderer customization, please read our
Siebel Open UI training
articles.
// Verify same Presentation Model class is not defined yet
if( typeof( SiebelAppFacade.TECHONESTOP ) === "undefined" ){
// Add the class to the SiebelAppFacade namespace
SiebelJS.Namespace( "SiebelAppFacade.TECHONESTOP" );
// Define the Presentation Model file location and other dependencies if any
define("siebel/custom/TECHONESTOP", [siebel/pmodel], function () {
// Declare the custom class as function
SiebelAppFacade.TECHONESTOP = ( function(){
// Call the super class constructor
function TECHONESTOP ( proxy ){
SiebelAppFacade.TECHONESTOP.superclass.constructor.call( this, arguments );
}
// To pass array of arguments, use 'apply' instead of 'call'
//Extend the class so that it can access all pre built functions
SiebelJS.Extend ( TECHONESTOP, SiebelAppFacade.PresentationModel );
TECHONESTOP.prototype.Init = function(){
SiebelAppFacade.TECHONESTOP.superclass.Init.call( this, arguments );
// Add properties or methods here
};
// Add script for custom functions
return TECHONESTOP;
} ());
return "SiebelAppFacade.TECHONESTOP" ;
});
}

// Verify same Presentation Model class is not defined yet
if( typeof( SiebelAppFacade.TECHONESTOP ) === "undefined" ){
// Add the class to the SiebelAppFacade namespace
SiebelJS.Namespace( "SiebelAppFacade.TECHONESTOP" );
// Define the Presentation Model file location and other dependencies if any
define("siebel/custom/TECHONESTOP", [siebel/listpmodel], function () {
// Declare the custom class as function
SiebelAppFacade.TECHONESTOP = ( function(){
// Call the super class constructor
function TECHONESTOP ( proxy ){
SiebelAppFacade.TECHONESTOP.superclass.constructor.call( this, arguments );
}
// To pass array of arguments, use 'apply' instead of 'call'
//Extend the class so that it can access all pre built functions
SiebelJS.Extend( TECHONESTOP, SiebelAppFacade.ListPresentationModel );
TECHONESTOP.prototype.Init = function(){
SiebelAppFacade.TECHONESTOP.superclass.Init.call( this, arguments );
// Add properties or methods here
};
// Add script for custom functions
return TECHONESTOP;
} ());
return "SiebelAppFacade.TECHONESTOP" ;
});
}

// Verify same Physical Renderer class is not defined yet
if( typeof( SiebelAppFacade.TECHONESTOP ) === "undefined" ){
// Add the class to the SiebelAppFacade namespace
SiebelJS.Namespace( "SiebelAppFacade.TECHONESTOP" );
// Define the Physical Renderer file location and other dependencies if any
define("siebel/custom/TECHONESTOP", ["siebel/phyrenderer"], function () {
// Declare the custom class as function
SiebelAppFacade.TECHONESTOP = ( function(){
// Call the super class constructor
function TECHONESTOP ( pm ){
SiebelAppFacade.TECHONESTOP. superclass.constructor.call( this, arguments );
}
// To pass array of arguments, use 'apply' instead of 'call'
//Extend the class so that it can access all pre built functions
SiebelJS.Extend( TECHONESTOP, SiebelAppFacade.PhysicalRenderer );
TECHONESTOP.prototype.Init = function(){
SiebelAppFacade.TECHONESTOP.superclass.Init.call( this, arguments );
// Add requirement specific script here
};
TECHONESTOP.prototype.ShowUI = function(){
SiebelAppFacade.TECHONESTOP.superclass.ShowUI.call( this, arguments );
// Add requirement specific script here
};
TECHONESTOP.prototype.EndLife = function(){
SiebelAppFacade.TECHONESTOP.superclass.EndLife.call( this, arguments );
// Add requirement specific script here
};
return TECHONESTOP;
} ());
return "SiebelAppFacade.TECHONESTOP" ;
});
}

// Verify same Physical Renderer class is not defined yet
if( typeof( SiebelAppFacade.TECHONESTOP ) === "undefined" ){
// Add the class to the SiebelAppFacade namespace
SiebelJS.Namespace( "SiebelAppFacade.TECHONESTOP" );
// Define the Physical Renderer file location and other dependencies if any
define("siebel/custom/TECHONESTOP", ["siebel/jqgridrenderer"], function () {
// Declare the custom class as function
SiebelAppFacade.TECHONESTOP = ( function(){
// Call the super class constructor
function TECHONESTOP ( pm ){
SiebelAppFacade.TECHONESTOP. superclass.constructor.call( this, arguments );
}
// To pass array of arguments, use 'apply' instead of 'call'
//Extend the class so that it can access all pre built functions
SiebelJS.Extend( TECHONESTOP, SiebelAppFacade.JQGridRenderer );
TECHONESTOP.prototype.Init = function(){
SiebelAppFacade.TECHONESTOP.superclass.Init.call( this, arguments );
// Add requirement specific script here
};
TECHONESTOP.prototype.ShowUI = function(){
SiebelAppFacade.TECHONESTOP.superclass.ShowUI.call( this, arguments );
// Add requirement specific script here
};
TECHONESTOP.prototype.EndLife = function(){
SiebelAppFacade.TECHONESTOP.superclass.EndLife.call( this, arguments );
// Add requirement specific script here
};
return TECHONESTOP;
} ());
return "SiebelAppFacade.TECHONESTOP" ;
});
}

// Verify same Physical Renderer class is not defined yet
if( typeof( SiebelAppFacade.TECHONESTOP ) === "undefined" ){
// Add the class to the SiebelAppFacade namespace
SiebelJS.Namespace( "SiebelAppFacade.TECHONESTOP" );
// Define the Physical Renderer file location and other dependencies if any
define("siebel/custom/TECHONESTOP", ["siebel/jqmlistrenderer"], function () {
// Declare the custom class as function
SiebelAppFacade.TECHONESTOP = ( function(){
// Call the super class constructor
function TECHONESTOP ( pm ){
SiebelAppFacade.TECHONESTOP. superclass.constructor.call( this, arguments );
}
// To pass array of arguments, use 'apply' instead of 'call'
//Extend the class so that it can access all pre built functions
SiebelJS.Extend( TECHONESTOP, SiebelAppFacade.JQMListRenderer );
TECHONESTOP.prototype.Init = function(){
SiebelAppFacade.TECHONESTOP.superclass.Init.call( this, arguments );
// Add requirement specific script here
};
TECHONESTOP.prototype.ShowUI = function(){
SiebelAppFacade.TECHONESTOP.superclass.ShowUI.call( this, arguments );
// Add requirement specific script here
};
TECHONESTOP.prototype.EndLife = function(){
SiebelAppFacade.TECHONESTOP.superclass.EndLife.call( this, arguments );
// Add requirement specific script here
};
return TECHONESTOP;
} ());
return "SiebelAppFacade.TECHONESTOP" ;
});
}

// Verify same Physical Renderer class is not defined yet
if( typeof( SiebelAppFacade.TECHONESTOP ) === "undefined" ){
// Add the class to the SiebelAppFacade namespace
SiebelJS.Namespace( "SiebelAppFacade.TECHONESTOP" );
// Define the Physical Renderer file location and other dependencies if any
define("siebel/custom/TECHONESTOP", ["siebel/jqmformrenderer"], function () {
// Declare the custom class as function
SiebelAppFacade.TECHONESTOP = ( function(){
// Call the super class constructor
function TECHONESTOP ( pm ){
SiebelAppFacade.TECHONESTOP. superclass.constructor.call( this, arguments );
}
// To pass array of arguments, use 'apply' instead of 'call'
//Extend the class so that it can access all pre built functions
SiebelJS.Extend( TECHONESTOP, SiebelAppFacade.JQMFormRenderer );
TECHONESTOP.prototype.Init = function(){
SiebelAppFacade.TECHONESTOP.superclass.Init.call( this, arguments );
// Add requirement specific script here
};
TECHONESTOP.prototype.ShowUI = function(){
SiebelAppFacade.TECHONESTOP.superclass.ShowUI.call( this, arguments );
// Add requirement specific script here
};
TECHONESTOP.prototype.EndLife = function(){
SiebelAppFacade.TECHONESTOP.superclass.EndLife.call( this, arguments );
// Add requirement specific script here
};
return TECHONESTOP;
} ());
return "SiebelAppFacade.TECHONESTOP" ;
});
}