Features of CRM software.
This is one of the most important part of CRM that you must know.
Why?
Because
Multiple research reports say that 30% – 60% CRM implementation projects fail or not able to serve as expected.
And
There are 3 KEY reasons behind this failure are –
Lack of Product Insight
Undefined Goals
Lack of User Adoption and Training
And of course,
Lack of product insight means lack of knowledge about features of CRM software.
Here I have listed down 16 KEY features of CRM software that will help you to know and choose CRM better.
Let's dig deeper!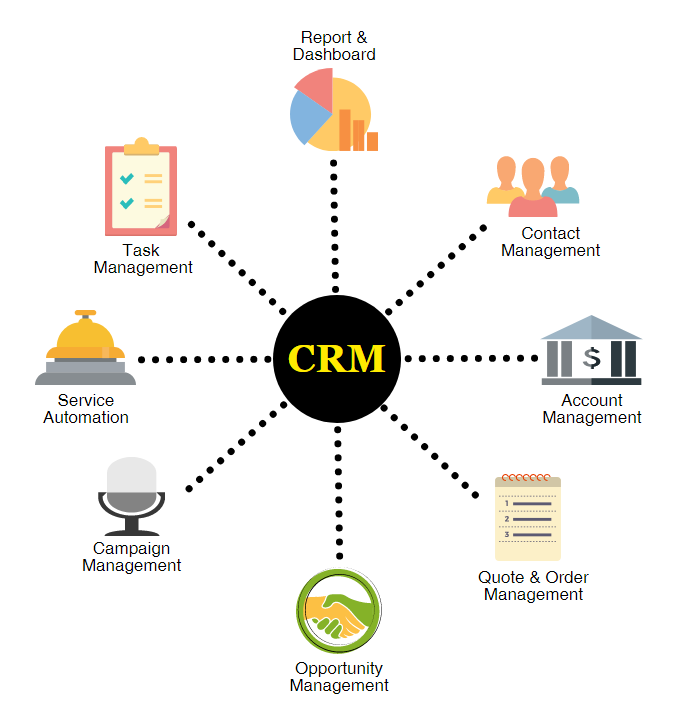 Features of CRM Software:
1. Contact Management
This is the most basic feature that every CRM application has.
Contact Management helps business to collect and organize customer data efficiently.
It tracks leads as it progresses through the sales pipeline and make first purchase. It manages customer profiles, relationships and communication history.
CRM gives a complete picture of all customers.
'Properly implemented CRM solutions have been known to improve customer retention rate by as much as 27%.' ( Source : Salesforce.com )
2. Account Management
Account Management is another primary feature of CRM software.
It captures and organizes company or division or household information and manages relationship.
Keep in mind,
Account records contain information about the companies you do business with. But contact records contain information about the people you work with.
Often it creates confusion!
3. Quote and Order Management
When a customer is interested to buy product or service, sales person creates a quote with all details.
If customer agrees to buy it with specified price, order will be generated. If not, sales person either cancels the quote or revises it to meet customer requirement.
CRM automates and streamlines this process for business. It improves order processing capability, sales visibility and relationship with customers.
4. Opportunity Management
When business qualifies a lead, it becomes an opportunity.
An opportunity is potential revenue generating contact or account.
If business does not nurture contacts or accounts properly, it will lose selling opportunity.
Opportunity Management enables business to manage and monitor sales funnel and provides necessary info to complete the sales process.
5. Sales Process Automation
Sales process automation is one of the most important CRM features. It automates and streamlines various sales functionalities to standardize business processes.
Business can customize the application as per requirements.
It reduces human error, makes sales cycle shorter and improves lead to customer conversion ratio.
6. Campaign Management
Needless to say, campaign management plays an important role in any business.
Remember,
Marketing campaign is the very first step any business takes to reach potential customers with products and services. So, it must be flawless. Isn't?
CRM leverages the efficiency of marketing campaign by marketing process automation. It reduces campaign cost, analyzes campaign data and forecasts future marketing strategy.
7. Customer Segmentation
Without proper customer segmentation, marketing campaign will never give you expected result.
Why?
Suppose, ABC company wants to launch a product for new born babies in Europe. So marketing campaign must target parents with new born babies or to be parents only.
And campaign will run only in Europe.
Now if the company runs a campaign for everyone around the globe, it will never generate enough leads.
Moreover, it will create bad impression.
So proper customer segmentation is important before executing any campaign.
CRM captures and analyzes customer data, coming from various sources. It divides customers into groups that share similar characteristics such as geography, age, gender, buying pattern or any custom rules.

( Source : Harvard Business )
8. Call Center Automation
CRM with call center automation enables service agent to solve customers' problems quickly. It gives right information at the right time to improve overall customer experience.
Interactive voice response (IVR), virtual agents, automatic call distribution are just few examples of call center automation.
9. Service Automation
Do you know – poor customer service is the main reason behind customer attrition?
66% of consumers switch brands because of poor service. On contrary, 85% of customer churn due to poor service is preventable. (Source : 50 Important Customer Experience Stats for Business Leaders )
Here is another statistic –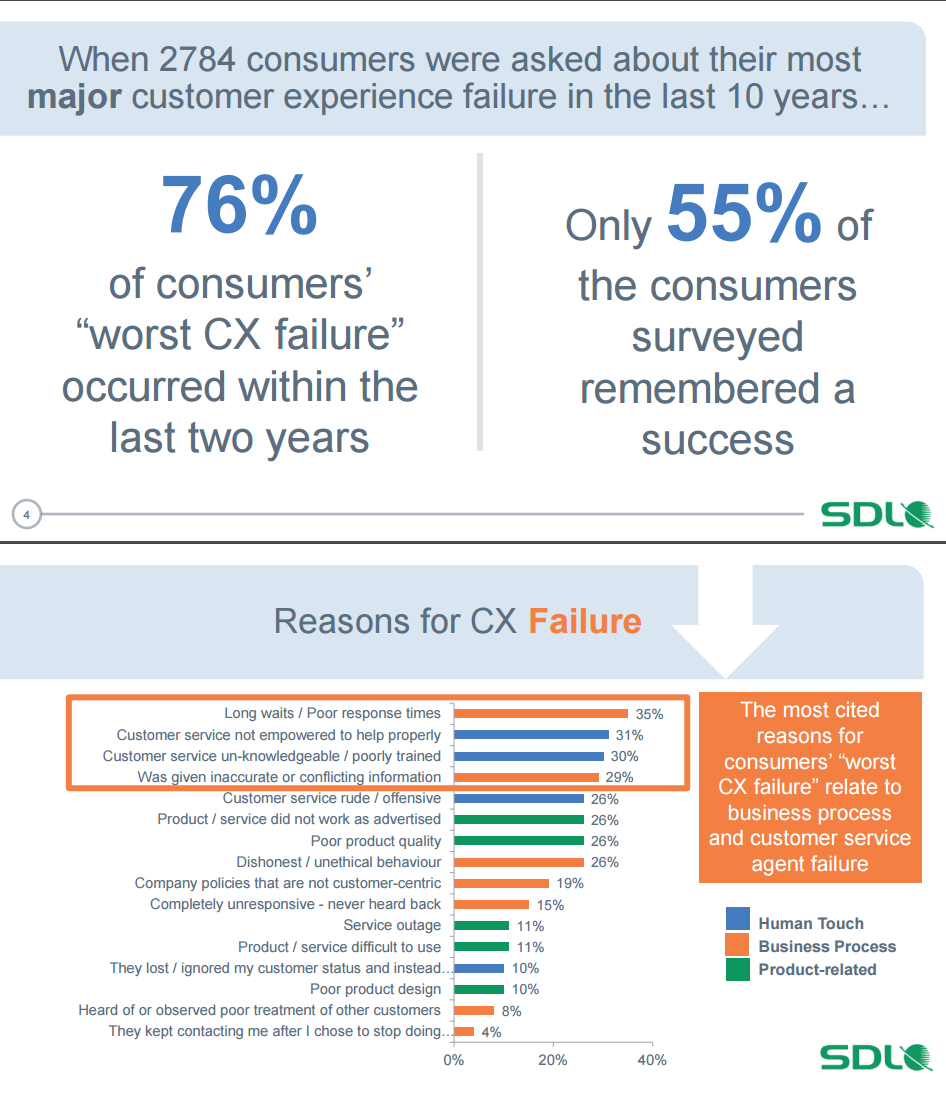 CRM helps business to fix almost all factors behind CX failure.
It automates and standardizes various service processes to reduce response time and human error. It improves customer loyalty and builds trust.
10. Task Management
Customer management is tightly coupled with employee management.
If you want to serve your customers better, first manage your employees better.
If a customer's request is pending for long time because your employees do not know who should work on it, it will never improve customer experience.
It is important to assign and complete tasks within time and budget.
Using CRM, business can automate task management process.
It creates and assigns tasks among employees based on their skill set, availability, geography etc.
11. Partner Management
Partner management is a special type of features and not every CRM application has.
It improves communication between companies and their channel partners. It manages business partners' relationship, shares data on real time across channels and streamlines processes.
12. Report and Dashboard
Report is one of the key features of CRM software.
Do you know which product gave you maximum no of leads in the last campaign?
What was the most profitable channel?
Which product performed well last year?
Data is valuable when you have the ability to find out something actionable. Simply capture and store massive amount of information is not enough.
CRM gathers and analyzes customer data.
It helps employees to perform daily tasks better and upper management to take more accurate business decision.
So far I have told you about core features of CRM that almost every organization needs.
But that's not all…
There are few more CRM features but they are more functional than technical.
Let's see few such features.
13. Mobility
Almost every business needs to access customer data outside office space. CRM with mobile compatibility ensures that you can access data anytime anywhere.
In 1999, Siebel released first mobile CRM – Siebel Sales handheld. ( Source : History of CRM software )
Now a days, almost every CRM supports laptop/desktop as well as mobile devices.
A research, conducted by Software Advice, shows that almost 50% users access CRM using smartphone or tablet.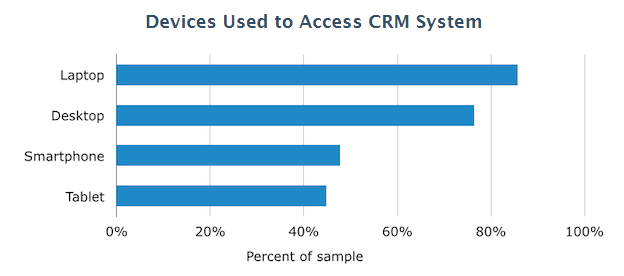 14. Integration Capability
A key feature of any CRM software is the ability to integrate external applications.
For example, your CRM application must be integrated with inventory management system to check product availability before placing order.
Integration with other applications helps business to see real time data in CRM from all systems.
15. Easy Customization
Every business has its unique strategies and processes.
And to automate those processes, you have to customize CRM.
Though CRM supports customization, not all applications are equally capable to handle any kind of business requirements.
Remember,
CRM works for you, not the other way around. An over complicated and over customized CRM is as bad as having no CRM.
16. Training and Ease to learn
Every CRM has different learning curve.
It will not make any difference if your employees do not understand the application easily.
Many CRM vendors provide training to make the product more usable. Also many CRM applications have built in 'Help' functionality to guide user step by step.
There are many other CRM features also,
But those are more product and vendor specific.
For example – Territory Management, Chat Integration, File Management.
It is important to know about CRM features and benefits before buying any application.
In this article, you have learnt about features of CRM software. In the next article, I will tell you 18 most important benefits of CRM.
But before that, let me know your biggest takeaways in the comments below.
What do you think about features of CRM Software? Have I missed any important feature?
Please feel free to add.