Why do we need to reassign keyboard keys? Well, there could be many reasons behind keyboard remapping. It may be any particular key of your keyboard is broken or you want to assign more useful functions to less used keys or to meet any other purpose, good news is that, keyboard remapping is quick and easy task.
There are several ways to reassign keyboard keys, like direct windows registry update, using open source software. Directly Windows registry update is not an easy task but there are many free tools which provide user friendly interfaces to remap keyboard and update Windows registry. One of such utilities is SharpKeys, it allows Windows to remap one key to another key. To download SharpKeys, click here.
Once it is downloaded, click on the sharpkey.exe file to install and open it.
Follow below steps to reassign keyboard keys:
Step 1: Click on 'Add' button that will open 'Add New Key Mapping' window to remap keyboard keys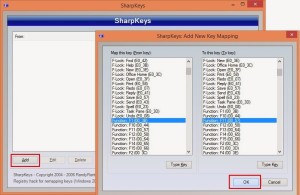 Step 2: Now choose the key from 'From key' column (left hand side) that will be mapped and 'To Key' column (right hand side) on which 'From key' will be mapped. You can type the key directly from keyboard also. To do so, click on 'Type Key' button under 'From Key' column and press the key from keyboard, do the same thing for 'To Key' also. Then click on 'Ok' button to close the 'Add New Key Mapping' window.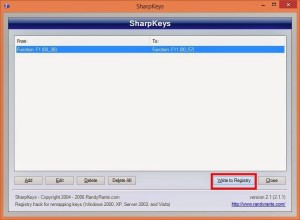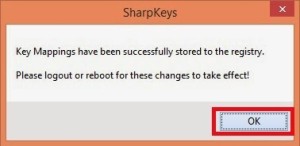 Step 3: Now you will see that 'From Key' and 'To Key' are listed on SharpKeys main window. If you want to do key mapping for more than one key, repeat Step 1 and 2. Once keyboard mapping is completed, click on 'Write to Registry' button to register all changes on windows registry.
It will prompt successfully registered message but to see changes, you need to restart your system.

What if you want to revert your changes? No problem at all. Open SharpKeys and delete the mapping that you do not want any more. Once the mapping is deleted, again click on 'Write to Registry' button to save all changes and restart your system. Your key will behave as it was before mapping.

Limitation of SharpKeys:
– It does not allow to swap two keys with each other – for example, you can not have F1 and F2 swap places, it makes the utility unstable.
– It does not support to map multiple key presses to one key- for example, ctrl + c is mapped to F3
– Hardware limitation, it works best with US keyboard on Windows platform
Despite above limitations, SharpKeys is very useful utility to reassign keyboard keys. There are many other software as well, we will discuss those in our next post.

Need any help!
Please feel free to comment here or write us [email protected]techonestop.com.
To know more, follow 'TechOneStop' on Facebook / Twitter / LinkedIn / Goolge+ or join our website as follower.
Sharing is caring, so please share this article with your friends.